This caused several of you to be like:
It really is an interesting story.
And it really is a long ass drawn out story, so you may need a martini. Or the entire bottle of vodka. If it is before noon - no judgment.
You see, in 2012, I had a rather lively social media life. One of my friends actually called me the "queen of social media." I had at or around 5-6,000 followers on Twitter at one point, and about the same on Instagram. People sort of knew who I was in the online world.
At this point in the story, you are probably all:
Right. BUT, I had absolutely no exciting personal life outside of the Internet, unless you count going to eat sushi with my dad every Friday night.
I had my reasons. I was on a dating sabbatical after having some rather bad long term relationships, that I would rather not re-live on this blog, or anywhere for that matter. Also, I had been
screwed over
treated poorly by people I thought were my friends. I was simply living by the life mantra of Agent Mulder, you know, "Trust No One." I went to work and came home everyday, alone, repeat, repeat, repeat - ad nauseam.
On the day after Memorial Day 2012, around 2 a.m., my dad had a stroke. As we waited in the hospital ER, a nurse told my mom and I that my dad might never be the same. When you are a child, you sort of think your parents are invincible. Since I am a perpetual child living in the body of an adult, I still believed this to be true and the thought of losing my dad changed my perspective on life. I realized my parents would not be around forever and I could end up alone. I also realized I needed to make some life changes and start being more responsible with decisions I made in my life. I could have never guessed only a few months later I would meet the man I was going to marry.


Over the summer of 2012, I was watching one of my favorite shows on CBS, Big Brother.
For those of you not familiar with the show, Big Brother is a reality game show with contestants living in a house together, completely isolated from the outside world, playing both mental and physical games to win a prize of $500,000 (also, you can watch the houseguests play the game inside the house via 24 hour live feeds). And for those of you who do watch the show, you know how easy it can be to get caught up in the houseguests, the show and live feeds.
(Editor's Note: That's Dan Gheesling, the greatest Big Brother player of all time.)
I desperately wanted to talk about which houseguests I could not stand and none of my Twitter followers watched Big Brother. Thus, I ran a Twitter search for "Big Brother 14" to find tweets of other people who were watching the live feeds. I came across a tweet written by a man about Danielle, a Big Brother 14 houseguest I loathed. I favorite'd his tweet and he tweeted me back "nice to know someone agrees with me." We tweeted back and forth a few times, and ended up following each other.
One Sunday, around the end of September, he and I began tweeting about a Jets game. This continued all day. As the night approached, we began talking in DMs. By the way, for the "Twitter impaired," a DM means direct message and is the Twitter version of Facebook chat. Since DMs have character restriction and can sometimes be a bit slow in sending/receiving, I asked him if he would like my number to text me. He immediately replied yes, and we texted each other for awhile.
Then, he asked if he could call me and I said, without hesitation, yes. And I am sure by now you are all: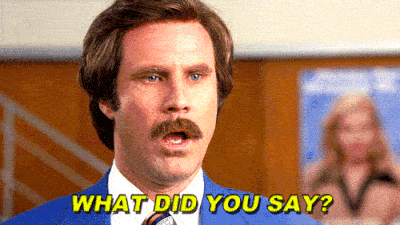 I know some of you might think it is weird or dangerous to give a complete stranger your phone number, but is giving a stranger you meet in a bar your number really safe anymore? I have made some great connections online, and he and I had so much in common that I thought we could be, at the very least, awesome friends.
From that evening on, he and I talked on the phone every single night, and pretty much texted all throughout the day, every.single.day. We had everything in common and we connected on so many levels. He quickly became my best friend - the best friend I had ever had in my life.
This communication went on for six months.
And yes, I have seen Catfish and these two buffoons:
I saw pictures of him and we often talked on Skype. And I saw pictures of #MaddiethePug.
One of the first pictures I received from him of #MaddiethePug.
I also knew he was in the military and had a very honorable career of service. I thought he was extremely genuine and a good person - probably even a little too good for me.
As time passed, he sent me Christmas presents, flowers.....
He always sent lilies. We had lilies at our wedding.
Wrote me love letters. Yes, I said love letters. And, you guys are going to think this is REALLY crazy, but he even got a tattoo on his arm for me.
I designed this - our astrological signs intertwined.
Finally, he planned a trip to meet me on February 22, 2013. I met him at the airport in my hometown for the first time and I can honestly say it was love at first sight. I knew he was the one. We had a truly magical weekend together. Before he left, he made me a promise: that he would come back and marry me.
And obviously, he kept that promise.
This was taken the day we got engaged - July 1, 2013.
Our wedding cake - January 11, 2014.
Instead of posting my usual obnoxious gif overload with love quotes and such, I thought I would share with you something rather personal. Something I have never shared with anyone before.
The texts my husband sent me from the plane on his flight home after the first weekend we met....
And that is how I met my husband on Twitter.
How did you meet your husband or wife? Let me know in the comments below, or post your own story on your blog!
As always, I am still,