Happy Summer my friends, it's #MaddiethePug again. Today, I'm going to share with you one of my most embarrassing, true and funny stories. When you are #MaddiethePug a lot of crazy stuff happens to you.
I'm a pug and I hang out with crazy humans like my mommy.
Here is a little background on my story. My mommy loves Chipotle. She's pretty much cookoo for Chipotle. When a Chipotle finally opened in our hometown, she would make daddy drive there all the time to pick up the yummy food.
Now every night, my mommy and I have "Mommy/Maddie Time" - a time when I stay up late with my mommy and just chill. My sisters go to bed with daddy.
Yeah, that's me. Chilling like a villain #MaddiethePug.
And my mommy, well, she works on THIS blog.
She also nerds out to Marvel and Playstation 4, too.
Anyway, back to Maddie's story. Because that is what you are REALLY here for, right? Well, one night, my mommy got a big bag from Chipotle from daddy when he came home from work. The bag was full of her favorite: soft tacos with chicken, sour cream, guacamole, cheese and salsa like always (and a bag of chips and guacamole).
A LITTLE FYI: #MaddiethePug loves food if you did not know by now.
Pug possession eyes on the prize (food).
My mommy knows how much I love food so she gave me a little taste of her soft tacos. And yeah, my mommy knows table food isn't the greatest for pugs; don't go all Pug-a-nazi on me about eating it from time to time. I'm working on my puglicious figure, extra belly rolls not included.
The bigger the pug, the more to love.
The tacos were delicious, but a little teeny tiny bit on the spicy side. The next morning, there was a BIG problem in coolie land.
Oh, by the way, do you know what a coolie is?
That's a pug coolie. Nuff' said (SO embarrassing).
By the next morning my coolie was really hurting. I went outside to potty. And it was really bad. I tried to go and go. I rubbed my coolie on the ground. I couldn't take it anymore.
I looked at my mommy and yelled:
MOMMY, THIS COOLIE'S ON FIRE!!
THIS COOLIE'S ON FIREEEEE!!
(in my Pug-licia Keys singing voice...coming soon to iTunes, folks)
It was crazy. Apparently, the Chipotle employees loaded up on the SUPER spicy sauce on my mommy's taco. Those tacos were like:
ON MY COOLIE!!!!
Thank goodness my mommy had some medicine to stop my coolie burn.
But yeah, no more Chipotle for #MaddiethePug. I don't know you humans do it. Like, you guys eat hot stuff all the time. My mommy's always getting that Taco Bell (and I gotta sleep with her after she devours those bean burritos, ugh people, just saying).
Seriously, do humans have burning coolie all the time?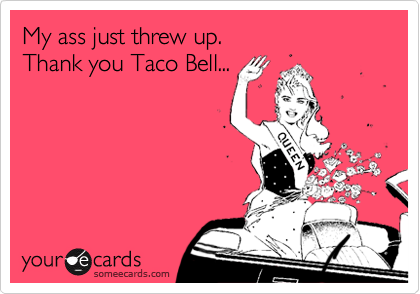 You aren't fooling me if you said no.
Has your coolie ever been on fire? Do you love Chipotle? What do you get when you order from there? Give me your coolie fire story and Chipotle suggestions in the comments below!
Until next time, I'm just a girl with a coolie on fire,