Meatloaf can be, well, gross. However, Military Husband and most men love meatloaf. Now, you might be thinking, "BUT, Mili Wifey, I don't know how to cook! And I don't want to try cooking meatloaf and end up with some dry, hard meatloaf that my husband/boyfriend/fiance' might chip a tooth on."
That would be NOT #onfleek.
Right. No worries, my friends. I am going to share a SUPER easy, idiot proof recipe for meatloaf. I make this all the time for my husband, and he gobbles it down. I stole the initial recipe from
All Recipes
and tweaked it a little bit. This meatloaf keeps for about 3-4 days in your fridge for leftovers.
And best of all, it is easy to make. You will look like you really know what you are doing in the kitchen, and not like this: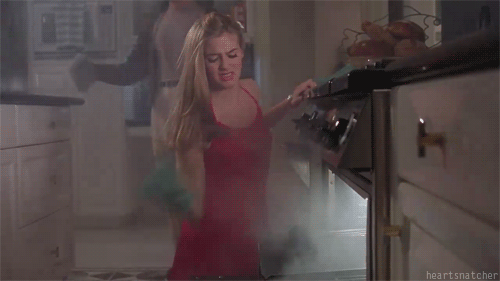 How To Cook Meatloaf That Doesn't Suck
Ingredients:
1 lb of lean ground beef
1 egg
1/3 cup of diced white onion
1/3 cup of diced green bell pepper
1/3 cup of diced mushrooms (optional)
1 cup of milk
1 cup of Italian seasoned bread crumbs
Salt and pepper to taste
1/2 cup of brown sugar
1/2 cup of ketchup
Directions:
Preheat oven to 350 degrees F.
Dice your bell pepper, onion and mushrooms. This does not have to be perfect!
Saute your diced bell pepper, onion and mushrooms in a pan over medium low heat until the vegetables are nice and tender. I throw in two-three large pats of butter with the veggies.
Meanwhile, mix the ground beef, milk, egg, bread crumbs and salt and pepper in a large bowl. I use my Rachel Ray garbage bowl. You should get one because they are awesome for all sorts of uses, plus, they are cute, and even if you have no idea what you are doing in the kitchen, you totally should own a few cute pieces of baking ware, right?
Add in your sautéed vegetables into the ground beef mixture, and mix well. Place this mixture into a lightly greased 5x9inch loaf pan. In a small bowl, mix the brown sugar and ketchup well. Pour this mixture over the meatloaf. My husband likes a lot of ketchup on his meatloaf, so sometimes I will add more!
Bake at 350 degrees F for 1 hour and 25 minutes. Now, you can go chill with a glass of wine and Netflix and let the oven do its magic.
I recommend allowing the meatloaf to sit for anywhere 15-20 minutes after cooking. It will not become cold; it will, however, be much easier to plate! This meatloaf is SUPER moist and will fall apart, but that is what makes it taste delicious. Here is a picture of the finished product on mashed potatoes. And if you do not know how to make mashed potatoes by hand, you can use the instant mashed potato mixes from the grocery store! Trust me, it will be fine.
I cut it after it sat out for 10 minutes so it was still very moist and fell apart.
Let me know if you try this recipe out. Remember, you can learn how to cook if you keep practicing.
Does your family like meatloaf? Have you ever tried to make one? Let me know in the comments below!
In my kitchen, baking up a storm, I am,